Vinyl Application Kit
Install your vinyl like a professional with our Vinyl Application Kit!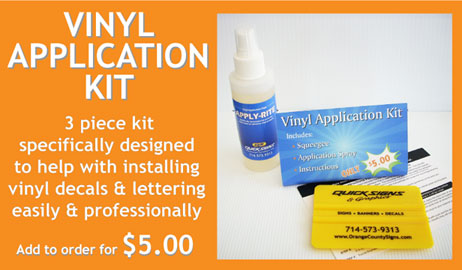 This 3-piece kit is a great addition to any vinyl decal or vinyl lettering order that will greatly ease the installation process. The contents of the vinyl application kit are simple yet effective and include one spray bottle of Apply Rite (application fluid), a squeegee and detailed instructions on "How To Apply Vinyl." These components will aide your vinyl installation efforts, by making the application process easier, and reduce possible installation errors that can occur.
This handy-dandy vinyl application kit works on both premium vinyl and standard vinyl decals and vinyl lettering. This vinyl application kit can be stored and reused for future use on any other vinyl installation projects that may present themselves on down the road.
Ask your Sales Representative about the benefit of adding our Vinyl Application Kit to your vinyl order today!
(Vinyl Application Kits Not Sold Separately)
Call us at (714) 573-9313 to inquire about our all adhesive vinyl products.