Clear decals for personalized projects.
Using clear vinyl decals to customize personal objects.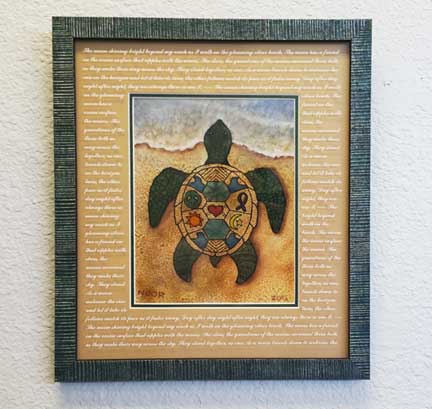 FEATURED SIGN OF THE DAY!
The picture that is featured as the sign of the day is a super creative personalized project that was fun to work on and looked amazing upon completion. Our client brought in a picture that his young daughter had hand-drawn. His idea was to incorporate a poem she also penned, to further personalize this particular piece, without taking away from the beautifully matted picture and frame. What we came up with was to use a clear vinyl decal material, which is see-through in nature, so that the undelying picture area would still visible.
Backdrop banners can enhance any event!
Fabric backdrop banner with free-standing display kit.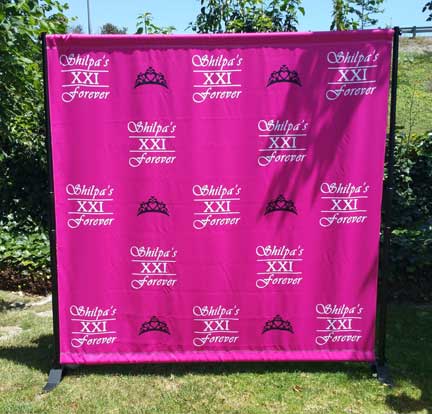 FEATURED SIGN OF THE DAY!
We produced this custom backdrop banner for a birthday party event. This particular backdrop banner was printed on 100% polyester fabric banner material, that is wrinkle resistant and has minimal light reflection, and has a simple yet colorfully elegant step and repeat banner design. Utilizing sewn-in pole sleeves, this backdrop banner, easily slides onto our extra large banner display kit that is light-weight, portable and adjustable. This birthday backdrop banner will be a great background for group or single photo opportunities for all the guests and the special birthday girl!
Interior decorating with frosted crystal vinyl
Frosted crystal vinyl works well for office decoration.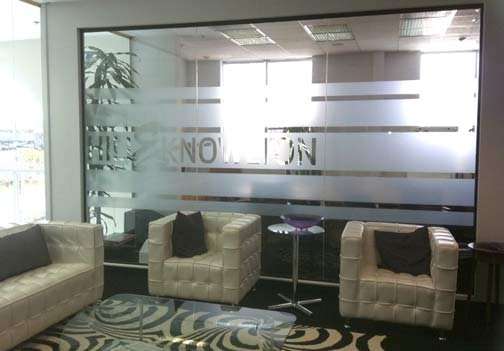 When it comes to office window decorating, frosted crystal vinyl, is a great medium to work with. Frosted crystal vinyl (also known as etched glass vinyl) is semi-transparent, essentially mimicing the look of sand-blasting without the cost or permanence, and offers a unique look when your office decorating needs encompass office areas with lots of glass walls, windows or partitions. This vinyl has a subtle diffused hue that makes it great for creating separation between rooms adding a touch of privacy while looking sophisticated and classy.
Quick and easy cheap signs for advertising
Inexpensive signs to start advertising quickly.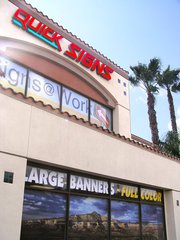 Advertising is an essential part of owning, operating or running a business. This is especially true for little mom and pop shops or for those who are opening up their own small business. You'll need to be noticed to attract the clientele and customers that will help build your business, but with a tight budget to get yourself off the ground with, you may wonder how you can afford a nice looking sign that is cheap and affordable yet attractive and sleek. Nobody wants a cheap looking sign to define their business but sometimes the funds just aren't there for more extravagant signage. Sometimes it's best to start small and expand as your business grows and here are a few great ideas for some cheap signs that fit just about any budget.
Pole banners require exact measurements.
How to properly order a pole banner.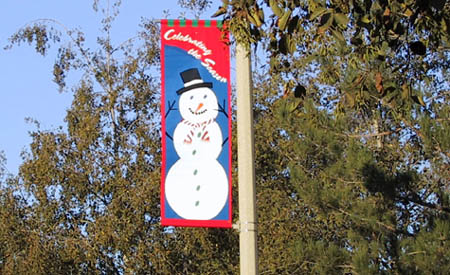 Pole banners are used for a plethora of different advertising and decorative displays. Known by many names like light pole banners, street pole banners, avenue banners...pole banners are commonly seen dotting downtown city avenues and parking lots across America. Pole banners offer two-sided banner coverage in a convenient package that can be displayed on indoor or outdoor pole systems. But you won't be able to display your pole banner if it doesn't fit the poles right.
More Articles ...
Who are we? Orange County Signs, also known as Quick Signs
Quick Signs, also known as OrangeCountySigns.com, has been a leader in the signs and graphics industry for over 20 years. We specialize in large format printing utilizing state-of-the-art digital printers. We service the signs and banner industry of Orange County, California and we produce and ship our sign products everywhere in the United States. The cities we service in Orange County are Tustin, Irvine, Newport Beach, Lake Forest, Mission Viejo, Laguna Niguel, Aliso Viejo, Laguna Beach, Costa Mesa, Santa Ana, Orange, Anaheim and many other surrounding communities including San Diego County, Los Angeles County and all of Southern California, and anywhere in the United States! Local Service Areas