Window Graphics and Application Methods.
Window Graphics: What's Tint Got To Do With It?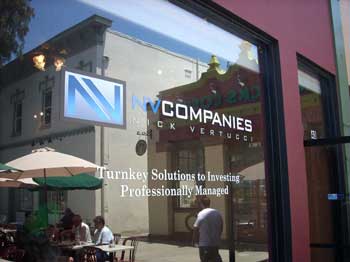 Window graphics are a great asset for advertising, as well as for identification, and come in many shapes and forms (square or custom cut window decals, vinyl window letters, static cling decals, etc.) Most window graphics are comprised of either digitally printed adhesive vinyl decals, or a combination of digital prints and cut vinyl lettering (pre-spaced adhesive vinyl letters).

The standard application process is to adhere the graphics, decals or letters to the outside of the window surface for nice clean viewing with colors that pop. Window graphics can be produced as "reverse-printed" for inside applications, and while they may look great on some windows, they lose vibrancy on others.