Why Use Vinyl Banners?
Top 5 Reasons To Choose Vinyl Banners for Advertising!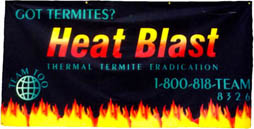 We've all seen vinyl banners around town advertising Happy Hours, Dinner Specials, Holiday Sales, Business Names and the like. And while there are lots of ways to effectively draw attention to your business you may wonder why vinyl banners remain so popular and so viable in this technological age. And while neon LED lights and big screen TV images will definitely get you noticed, there are five great reasons why vinyl banners, while not as flashy, are still highly marketable and a smart choice for outdoor advertising, branding, marketing and information.