Floor Graphics. Ground level advertising.
Adhesive Vinyl Floor Graphics and Decals. Bring a room together.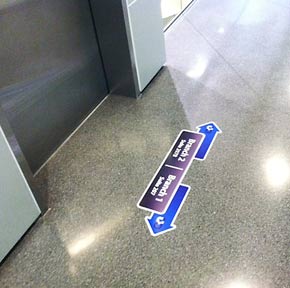 Floor graphics and decals are an exceptionally creative way to advertise or decorate most all smooth floor surfaces. Most business signage is at eye-level, which is great, but what about the floor? A lot of businesses miss the mark and completely overlook the walking areas of their office or business whether the floor graphics would be used for informational, directional, or just for looks.

When putting one foot in front of the other and walking, floor graphics will definitely be seen and can help boost product sales or in-house promotions as well as making navigating a store, building or office area more efficient.