Lettering Only Banners - No Graphics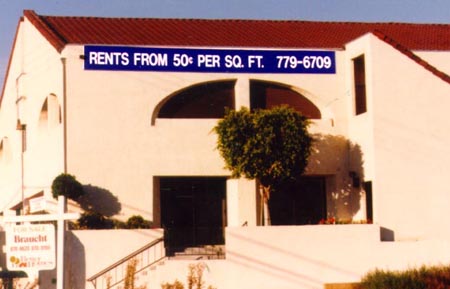 Basic lettered banners without graphics.
Non-digital banner option...cheap banners!
Lettering only banners are a great alternative to digitally printed banners when all you need is simple lettering on your banner. Lettered banners are fairly cheap and inexpensive to make for both indoor and outdoor use. The life expectancy of a cut vinyl lettered banner is a little more lengthy, in comparison to standard banners, and can last outdoors from 5 to 7 years with proper maintenance and installation. This is because a lettering only banner utilizes solid colored cut vinyl instead of digitally printed inks. The cut vinyl has color through and through, whereas a digital print, utilizes fade-resistant inks that will lighten quicker from sun exposure.
Most people opt for digitally printed banners because they are visually stimulating or they need full color graphics to be displayed on the banner. Cut vinyl lettering only banners are usually only utilized for purposes where graphics aren't necessary to convey a message, sale, promotion, etc. Lettering only banners are a tad bit cheaper than digitally printed banners because there are no inks involved...only cut vinyl.
Cut vinyl banners are produced by choosing a blank banner size and then applying cut vinyl lettering to the face of the banner material. Very basic shapes can also be cut out of vinyl and utilized in your lettering only banner design. Vinyl banners come in a few different standard colors with a good variety of colored vinyl options to choose from. So if simple, basic and cheap categorize your banner needs, this is the banner for you.
Lettered banners are also a popular option for basic banners that need to be used again and again but with different information. Lots of over-the-street banners (road banners) utilize this style of banner because they can change the dates of city-wide or county events annually. With lettered banners you can remove the vinyl and replace it with new lettering (or numbers) year after year so that you don't have to purchase a new banner every year. And on a side note, if you need a lettered banner because of the letter changeability, but need a printed graphic on your banner design as well....we gotcha covered...just discuss your lettered banner (with graphic) needs to your sales representative.
Popular Lettered Banner Uses:
Retail stores and strip malls

- For sales, holiday promotions, event announcements, store identification and more.

Real estate

- For Lease, For Rent, For Sale, Move-In Specials, New Housing, Now Leasing, etc.

City or county events

- Large over-the-street banners with announcements or event dates, location and time.

Personal events

- Great for family reunions, welcome home, retirement, graduation and so much more.

Restaurant

- Simple banners to announce happy hours, dinner specials, senior discounts, kids eat free deals, etc.

Reflective banners

- Great for directional, construction or information banners that need the lettering to illuminate at night.
For information on our lettering only banners, give our sign specialists a call.
714-573-9313