Lettering for Custom Signage
Create your own custom lettered decals, signs and graphics.
What Type of Custom Lettering are you Looking For?


Vinyl Lettering
Dimensional Lettering
Pre-spaced Adhesive U-Apply Vinyl Lettering
Vehicle | Wall | Window | & More
Variety of Colors including Reflective, Etched Glass & More

3-D Lettering, Numbers and Graphics
Metal | Plastic | Foam
Many Styles and Options for Indoor & Outdoor Signs

GET STARTED
GET STARTED
Please feel free to request a Dimensional Letter Quote or a Vinyl Letter Quote online,

or give us a quick call at (714) 573-9313.
Custom lettering for personal and professional use.
Q. What lettering options do you offer?
A. We have vinyl lettering and dimensional lettering!
Choosing to letter a wall, vehicle, window or personal project is a fun and creative way to brand, identify, decorate, market or advertise. Lettering can be as simple as the big alphabetical wall letters seen in the picture to the right; or as unique as brass dimensional lettering with your company logo or name to identify your business storefront (see picture below). But whatever type of lettering you need, whether it's adhesive do-it-yourself vinyl lettering or mounted dimensional letters, you have a variety of choices in colors, options and styles. We offer a plethora of solid colored vinyls for your vinyl lettering, as well as, reflective vinyl letters and etched glass vinyl lettering for your specialty lettering needs (mirrored vinyls and metallic vinyls available as well.) And as for dimensional lettering options, there are hundreds of metal letter, plastic letter or foam letter combinations available to fit your style and budget needs.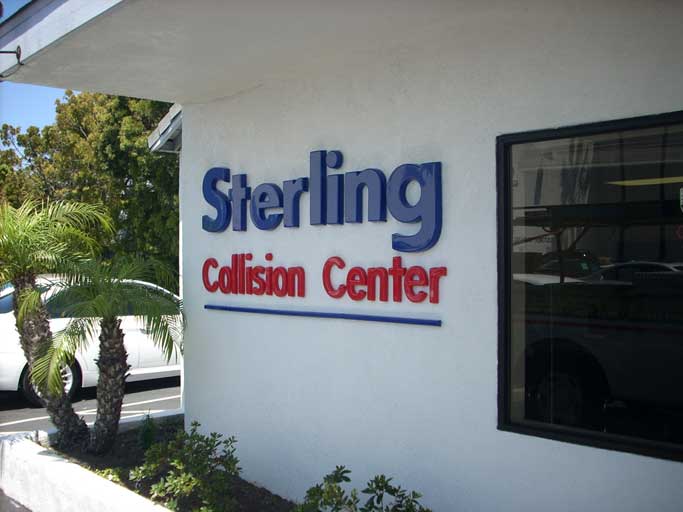 Utilizing custom lettering is easy, cost-effective, creative and fun. Another bonus that comes with custom lettered signage is that there is no costly painting involved. There is also the advantage of easily removing either style of custom lettering and replacing it with updated information, logos or branding. Any which way you look at it, investing in custom lettering or dimensional lettering for signs, gives you a professional looking visual presence at prices you can afford with a product that you can install yourself.
(Installation services are available for local customers on both vinyl and dimensional lettering.)