Floor Decals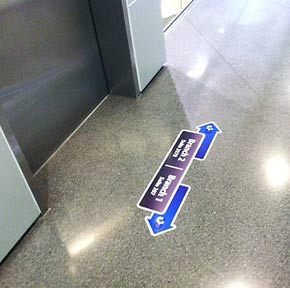 Floor graphics for ground-level advertising!
Maximize your floor space with custom floor decals.
Imagine all the possibilities that floor graphics can give to your company by enhancing the overall decor of your open floor space.
Floor decals and graphics literally can't be overlooked. People tend to look to see where they are going, and a big splash of color on the floor below will definitely draw attention!

Our floor decals are printed onto a durable adhesive vinyl material and then finished with a rugged lamination to protect them from the wear and tear of foot traffic. Digitally printed floor decals can be used to promote in-store specials or direct customers and/or clients to different locations within a building.
Our specialty floor decal vinyl is specifically made for indoor use on most smooth surfaces. As with all of our other standard decal, vehicle decal, wall decal and window decal prints, our floor decals can be square cut or custom cut, to accentuate a completely custom and unique floor graphic look.
Popular uses for custom vinyl floor decals and floor graphics:

Car dealerships

- Floor decals can be used to direct clients throughout the building (i.e. waiting room, restrooms, service areas, sales cubicles, etc.)

Schools, Churches & Universities

- Vinyl floor graphics are great for school or church functions as directional signage and/or floor decor.

Tradeshows & Conventions

- Great for marking isles. Floor graphics can emphasize special key areas or direct foot traffic to booths and services.

Special Events

- From weddings to special promotional events at any venue. Floor decals are ideal for promotional advertising, directional signage, and creating spontaneous sales.

Retail stores

- Promote your products and specials with floor decals placed strategically throughout your store. Popular in grocery stores to pomote high volume or highly profitable products
For more information on custom vinyl floor decals, give our decal specialists a call.
714-573-9313