Wood Signs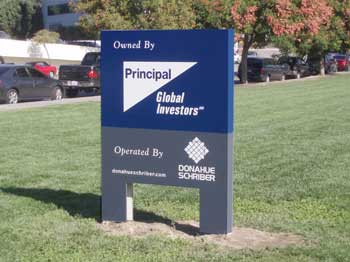 Long-lasting outdoor wood signs.
Sturdy and weather-resistant plywood signs.
Our wood signs are primarily constructed of MDO (Medium Density Overlay) plywood based sign that mimics regular plywood but has a more moisture resistant glue holding the laminate layers of plywood together. The "overlay" is actually a water resistant coating on the surface of the sign that is paint and vinyl receptive allowing the sign to be customized for vinyl lettering and/or vinyl graphics. MDO wood signs van be constructed as single-sided sign or double-sided sign.

Call (714) 573-9313 for an MDO Wood Sign phone quote!

These heavy-duty woods signs are very popular for real estate signs and construction signs. The construction industry especially utilizes MDO wood signs for outdoor use because of the durability and affordability of these signs. But ultimately you will see wood signs used in just about any situation where a customer or company needs a well-built sturdy sign that will last for a very long time outdoors in the elements.
Wooden MDO signs are a great investment for long-term signage because of the plywood-like construction that lends itself to long term outdoor use. Wood signs are a more permanent sign style since they need to be embedded into the surrounding ground for installation.
Wood MDO signs come in 1/2" and 3/4" thicknesses and can be built to any size.
Click on photo for more examples...
Most popular uses for Wood Signs are:
Construction Signs

- Site signs for construction sites are a valuable investment for construction projects that may span years, need to be used for outdoors and need be an affordable and durable signage option

Real Estate Signs

- Wood signs are popular in the real estate industry especially when it comes to sturdy property sign needs. MDO plywood signs complement advertising and identification for apartment complexes, commercial locations and more. Some real estate companies use wooden real estate signs for for both residential and commercial signage.

Retail Shopping Centers

- Big wood signs can help with navigating and decorating large and small retail complexes. Wood signs are often seen during the remodeling phase in shopping centers and malls. Often seen are wooden barricades in displaying vinyl digital graphics of new tenants or other "coming soon" advertised signs.

Exterior Office

- Great for permanent office exterior identification for a look.

Apartment Complexes

- Wood signage is often used as a permanent structure displaying the name of the business and amenities.
For more information on our MDO Wood Signs, give our sign specialists a call.
Local: 714-573-9313