Property Management Signs & Banners
Wide selection of property management signs to choose from.
Don't see the property management sign you're looking for?

Give us a call at (714) 573-9313 and let us help you with your property sign needs!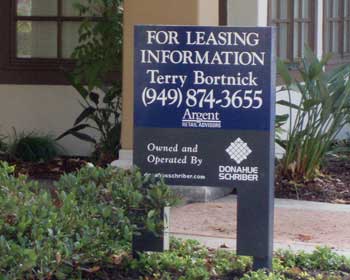 We specialize in custom property management signs!
Property management signs are essential for both property management companies seeking to identify their properties correctly; and for businesses that need to furnish property management signs to comply with building regulations or identification needs. Property management signs fall into a wide range of signage that includes parking signs, regulatory signs, ADA signs, office signs, dimensional signs, wood property signs, printed banners, real estate signs and much, much more.
Property management signs can be created on a variety of different substrates in a multitude of ways utilizing property sign materials such as PVC signs, aluminum signs, acrylic signs, wood signs or vinyl lettering, etc. with a multitude of options to fit any property management sign budget.
All our property management signs are predominantly custom made so you can order any size, quantity or combination of property management sign styles you need. Need a property management sign for designated parking spaces, notice of surveillance, leasing information signs, private property signs, building lettering? No problem. Not sure what type of property management sign you need? Then give us a call and we can help guide you in the right direction to purchasing the most cost effective and feasible property management signs that will work best for you and your property sign needs!
Have questions about custom property management signs?
Give our property management sign specialists a call today for pricing and ordering!

Local: 714-573-9313
or
Toll free: 866-267-4467