Acrylic Plexiglas Signs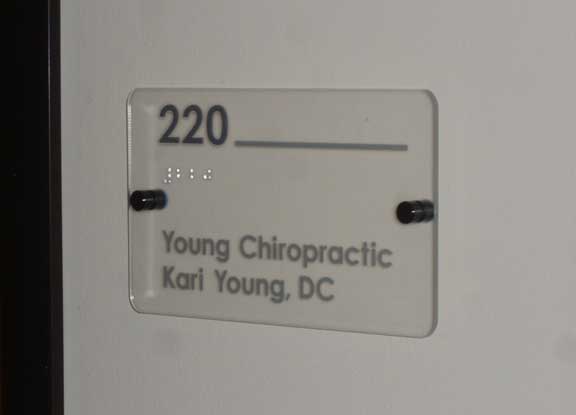 Indoor and outdoor acrylic signs.
Highly durable weather-proof signs.
Acrylic signs are a very popular sign choice when durability and longevity are key components in your sign needs. Acrylic (Plexiglas) is a rigid material and can be ordered in the standard clear pictured to the right or in standard various colors. Acrylic is light in weight and weather-resistant making it a great medium for indoor or outdoor signs.

Call (714) 573-9313 for an Acrylic Sign phone quote!

Acrylic signs can be custom made to just about any size and installed indoors or outdoors. Acrylic signs are economical, will last for years and create a sophisticated look for professional environments. Acrylic signs can have digital prints mounted to the front or back of the material as well as cut vinyl lettering to create stunning high-quality signage.
Acrylic (Plexiglas) is a very versatile substrate and has many uses indoors and outdoors from suite signs to office directories to monument signs. Acrylic signs can be mounted directly to most all surfaces but look best when utilizing a standoff (aluminum caps and screws) system giving the sign a flawless floating beauty. Acrylic is also used in the fabrication of plastic dimensional letters & logos, which is a great interior/exterior accompaniment to custom acrylic office signs, for any business that values making a spectacular visual impression.
Some different uses for Acrylic Signs are:
Interior Office

- Desk signs; Suite Signs; Lobby Signs; Office Directory; Room Identification; Wall Graphics and more.

Dimensional Letters

- Different thicknesses and colors can create a custom dimensional office sign indoors and outdoors.

Monument Signs

- Lightweight large signage for interior and exterior office walls for company branding.

Box Signs

- White acrylic or clear acrylic inserts with digital prints or cut vinyl lettering for business identification.

Weather-Resistant Signs

- The acrylic plastic substrate will last for years outdoors without having to be replaced.
For more information on our Acrylic Signs, give our sign specialists a call.
Local: 714-573-9313
or
Toll free: 866-267-4467