Lobby Signs
Custom Lobby Signs for your Business.
Decorative lobby signs make your office standout!
One surefire way to make your business office friendly and inviting is to invest in custom lobby signs. Lobby signs are professional looking and also serve as a focal point for greeting customers and clients. Lobby signs also lend to branding your business and show that you take pride in your services and company.
Lobby signs serve as a welcoming marker and enhance negative wall space. Lobby signs transform an ordinary and mundane wall into a visually appealing beacon that automatically warms up any reception or waiting area.



Lobby signs come in a lot of different forms and offer so many options for complete customization to give your office sign a totally unique presence. One of the most common variations for lobby signage utilizes a solid acrylic sign with vinyl lettering and prints applied to the face of a clear acrylic base (see above photo that utilizes cut vinyl lettering and graphics). Acrylic lobby signs can also be layered with other pieces of colored acrylic in conjunction with cut vinyl or digital prints. Most lobby signs are mounted with special hardware, called standoffs, which give the sign some depth as well.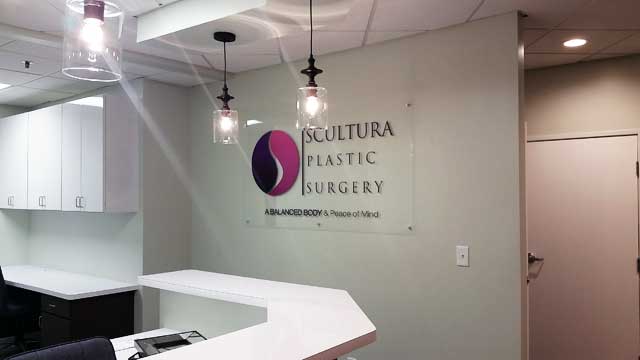 Speaking of depth, another popular form of lobby signage comes in the mode of dimensional lettering. Dimensional lobby signs are created with metal lettering, foam lettering or acrylic (plastic) lettering that can be as simple as a company name or be completely customized to your company logo branding your business. Dimensional lobby signs adorn your office wall space with three-dimensional letters, logos or designs that have depth and character.
And for the budget conscious, one-dimensional wall lettering and graphics, are a fantastic choice for lobby signs. Colored adhesive vinyls can be cut out to letters or shapes and easily applied to any smooth interior wall. Digital decals can also be combined with vinyl lettering further enhancing the customization of your office lobby sign.
We offer a multitude of lobby sign options, including custom brushed aluminum lobby signs as well. We also offer professional installation services, to our local customers in Orange County and surrounding cities.
For more information on custom Lobby Signs, give our sign specialists a call.
714-573-9313