Table Banners & Covers
Fabric banners for tradeshows and more.
Identify and personalize with custom fabric table banners.
Customizing a table banner is a perfect way to easily promote your business, institution or product at tradeshows, events, registrations, farmer's markets and much, much more. Fabric table banners, table covers and table skirts look great and convey a professional appearance that can be customized to include your personal graphics and logos in a variety of different styles to best suit your table banner needs.
Besides giving a corporate-look to your display area, table banners and covers, are light-weight and portable which makes them ideal for traveling. Table banners and table covers are custom printed using a dye-sublimation method that ensures brilliant graphic prints that are infused onto a wide variety of wrinkle-resistant fabric materials. Table banners and covers also come in a variety of standard sizes like 4 foot, 6 foot and 8 foot table banners (that fit most normal tables) to custom sizes for larger tables and display area.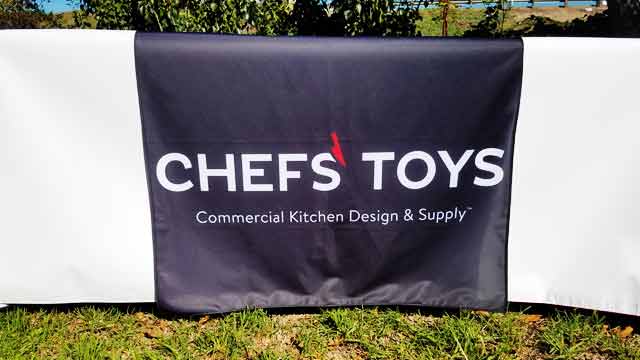 Table banners can be easily strewn across any table for an easy set-up at conventions, meetings, tradeshows, registrations or for special occasions. Table banners and table covers can be fashioned to lay over the top and front of a conference table or can be produced to fully drape a table with graphics on practically all sides for full exposure (which is great for storage purposes as well.) Budget wise table banners and covers are very economical for a product that can be used just about anywhere and can also double as a wall banner if necessary. Fabric table banners and table covers can be produced within days and will definitely create a buzz-worthy display space or professional looking greeting area for classy and sophisticated marketing, branding and more.
Add a backdrop banner, or an adjustable banner stand combo to your display, and increase your visual presence tenfold!
For more information on fabric table banners, table covers, table throws or table skirts
give our custom sign specialists a call.
Local: 714-573-9313
or
Toll Free: 866-267-4467