Clear vinyl decals and stickers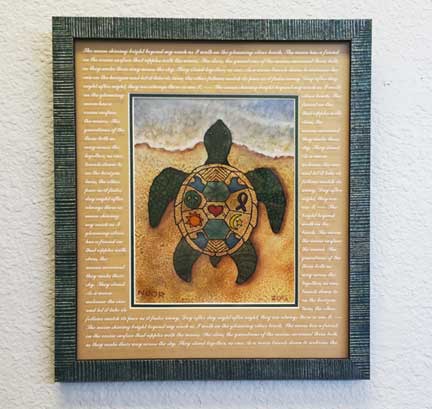 Adhesive stickers printed on clear vinyl
Clear vinyl decals and stickers let you print without a background color.
Clear decals and stickers are perfect for decal printing where you want the background surface to be visible. Clear decals are printed onto clear adhesive vinyl material that can be applied to any smooth, non-porous surface and utilized for anything from personal projects (like the one seen pictured to the right and explained below) to vehicle graphics to window lettering to durable clear vinyl labels for packaging, promotions, marketing or special occasion custom labeling.

Clear vinyl decals give you the option of printing your graphic images onto colorless vinyl that can be applied to all sorts of different surfaces. With the lack of a white background, clear vinyl decals, achieve the popular look of cut vinyl lettering (or graphics) without the extra expense that comes along with custom cut decals or stickers.
Clear vinyl decals are also a great alternative in lieu of vinyl lettering that is to small to be cut-to-shape (die-cut) as referenced in the picture showcased on this page. Our customer came in with a framed picture his daughter had drawn and wanted to add her poem to accentuate the drawing. We printed white ink onto clear vinyl decal material and adhered it onto the glass on the front of the drawing. The white ink decal on clear vinyl gave maximum visibility to the poem while also allowing the matted area of the print to still be visible underneath the words.
We can digitally print clear vinyl decals or utilize our Gerber Edge spot color printer for simple one, two or three color decals. Digitally printed clear vinyl decals and spot color decals can feature your own custom graphics, or text, and are best applied to surfaces that are light in nature. The clear nature of the vinyl makes the inks transparent, or technically see-through,and will be influenced by the color of the surface they are placed upon. So in essence if you place a clear vinyl decal on a very dark surface the inks will be harder to see because the underlying color muddles the original color of the ink. This also rings true with spot color clear vinyl decals as well.
When you don't need full color graphics on your clear vinyl decals and stickers you can opt for a spot color decal option. Spot color printing allows you to choose a standard color (i.e. blue, black, red, white, etc.) and have it printed onto clear vinyl. This is an especially popular choice when it comes to white ink decals. Most digital printers can't print the color white onto clear vinyl because white isn't actually a color....it's an absence of color. What this means is that if you try and digitally print the color white on clear vinyl you will have one decal that looks like a blank, see-through sticker with nothing on it. However, we still utilize a spot color printer for some of our decal printing, which can actually produce white ink decals. Since most decal companies are digitally based, white ink printing, is harder and harder to find amongst the sign printing community.
And since we are a custom print shop you can order one clear vinyl decal or sticker or thousands. We can fulfill your digitally printed decal or spot color decal needs on time and within your budget. Give us a call today and inquire about clear vinyl decals and see if they are the right style of decal to fit your needs.
For more information on clear labels, decals and stickers
give our label specialists a call.
714-573-9313