Trade Show Banners
Banners for trade shows
Need a different type of Trade Show Banner? Give us a call at (714) 573-9313.
Event banners for your trade show
Trade show events are often filled with individual booths and displays set up by a variety companies or individuals. In order to stand out, a company should definitely consider trade show banners and signs, in order to make sure the attendees to the event notice the display and will stop by to learn about the product or service being offered. Trade Show banners come in a variety of forms that are portable and reusable and are a great investment for any company or individual that regularly attends trade shows or other networking or fair type events that require product specific signage.
Custom printed banners and signs for trade shows
Trade show printed banners that can be hung from the ceiling, suspended between poles, put on stands or even draped in front of a table and can be bright, colorful and informative. Once a potential customer sees the trade show banner that a company has put on display, he/she will be drawn over to the booth or table to learn more, ask questions, check out the literature or items that have been brought in for them to see, and perhaps even make an appointment for further business contact. A great trade show banner with bright bold lettering and beautiful graphics can make the business that is on display look more professional and welcoming. A good first impression from a professional banner can lead to a new contract, a sale, or even a long business relationship because it can help to draw new clientele to a business.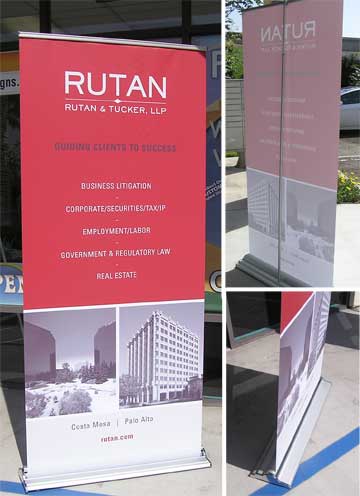 Other popular trade show banners and signs are roll-up retractable banners, interchangeable adjustable banners, semi-rigid posterboard displays and customized fabric table cloth banners. All of these marketing tools help accentuate your booth area and promote your brand visually, and more importantly, have the ability to be set up quickly and transported from location to location with ease.
In addition to the individual participants using a trade show banner or two to make their display stand out, the host of the show will benefit from using banners to advertise beforehand and to draw attendees into the site during the event. Large, bright banners of nearly any size can be custom made using graphics and colorful and clear lettering. These banners can be displayed ahead of time, across parking lots, over top of roadways, and in areas where potential customers will see that a trade show is coming. A large "welcome" banner inside the site is inviting and lets participants know that this is the place to be. Trade show banners let everyone who enters the event know exactly what kind of trade show, be it automotive or gourmet foods or even educational supplies, is happening are very important and can be made inexpensively and will last for years, an important factor if this is a yearly or repeating event.
The main purpose of any banner is to inform and advertise. This is especially true of the trade show banner that must let participants know not only what type of trade show is coming to the area, but also needs to inform of dates, times, and location. These vinyl banners are inexpensive, well-made and easy to hang or display. Individual vendors may choose to use trade show banners as well. Professionally made signage will draw attendees to the show and will help individual vendors to bring these attendees to their own booth or table so that a new business relationships can be cultivated. Without signs or banners customers will not be drawn to the show or to the individual displays at the event. Signs and banners are absolutely necessary for the success of this type of event.
For more information on our Trade Show banners, give our banner printing specialists a call.
Local: 714-573-9313