Extra large Step & Repeat Banners!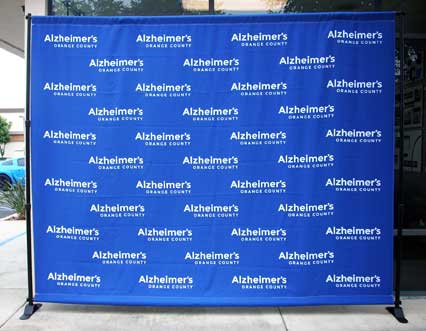 Background banners for all occasions!
Full color step & repeat backdrop banners!
Step and repeat banners are a very specific type of banner and are mostly used as backdrops for sponsored events. Basically a step and repeat banner will have one to a few logos repeated on the banner in a step, diagonal or alternating pattern.
Step and repeat background banners can be any size, but tend to be fairly large, so as to be used as a background or backdrop for photo opportunities during press and media conferences, special gala and red carpet events or for tradeshow booth identification and decoration. But you may also see step and repeat background banners utilized for birthday parties, school dances, product branding or marketing, etc.
Our step and repeat banners, background banners, backdrop banners or red carpet banners (depending on your banner terminology preference) are printed onto either a sturdy vinyl banner material or a flag-like fabric wind banner material. Both step and repeat background banner styles can be used indoors and outdoors; can be stored for repeated use; can have built in pole sleeves or grommets for hanging; and can be cleaned to stay looking fresh and new. The main difference between the two background banner styles is visibility. Since vinyl backdrop banners are opaque in nature they have a non-transparent solid look with a more rigid feel. While step and repeat background banners, printed on fabric material, achieve a more flowy look and feel that is semi-transparent.
Background step and repeat banners are easily displayed on expandable banner stand systems by having pole sleeves sewn into the material. These "pole sleeves" mimic the pole pockets seen on Light Pole Banners (or boulevard banners). The open sleeve slips easily over the rods of our step and repeat banner stand creating a light weight and portable display system. And since the backdrop banners slip on and off of the banner stand pole system you can continually change out the background banner to include various different step and repeat banner styles.
Step and repeat banners are easy to display and look very professional and sleek for all sorts of events and occasions. And keep in mind that step and repeat banners are a style of background banner that also can accommodate high-resolution images to create custom scenic backgrounds as well!
Using your background banner for trade show exhibits? Then consider adding a table cover banner or portable banner stands to complete your display area and enhance your branding, marketing and advertising efforts.
Popular uses for step and repeat background banners:

Sports

- For press conferences and media events or announcements.

Schools

- With or without step and repeat logos, backdrop banners are great for school dances and functions.

Tradeshows

- Brand your booth with a step and repeat or backdrop banner and be noticed.

Special Events

- Great for red carpet events; sponsored sporting events; corporate benefits; birthdays; charity balls; galas and more.

Bands

- Extra large background banners are great for band props and recognition.

Political Campaigning

- Great extra-large banners to display at rallies or for televised caucuses.

POP Displays

- Grocery stores, department stores and retail stores can use step and repeat banners to showcase products in a grand fashion.
We also carry a great selection of step & repeat and backdrop banner stands. Call for pricing!
For more information on Step & Repeat and Backdrop banners, give our banner specialists a call.

714-573-9313