Light pole banners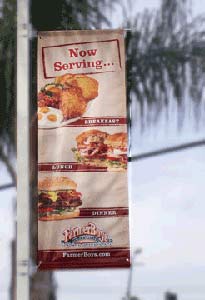 Banners for Light Posts and Other Poles
Street Pole and Parking lot pole banners
These banners have several different names...light post banners, light pole banners, street pole banners, boulevard banners or lamp post banners. But what they all have in common is that they attach to street light fixtures or non-lighted street poles and are reinforced for extended long term outdoor use. Light pole banners are usually double-sided so that they can be viewed in either direction and commonly display the same information on each side, but can have different images on the front and back of the banner depending on customer needs.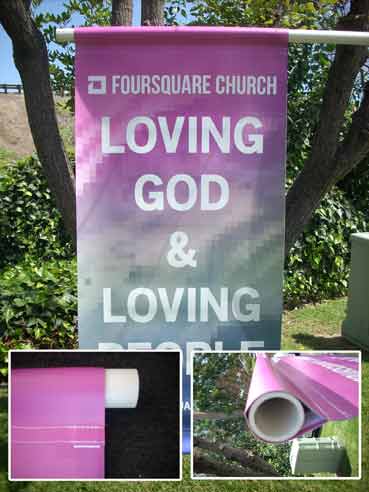 Light pole banners generally have sleeves or pockets sewn into the top and bottom of the banner to allow the banner to slide onto the poles of either wall mounted bracket kits or banner bracket kits attaching to light poles. When ordering light pole banners please remember to know the size of the pole that the banners will need to fit onto and to check your mounting system to see if it is "fixed" (welded to the surface and non-movable) or "adjustable" (free-standing mounting system that can be loosened and moved to accommodate various size banners.)
If you are in need of a "sleeved" banner that may not need to be double-sided for light pole advertising, we can add pole pockets (sleeves) to our standard vinyl banners as well as our extra-large digital vinyl banners and perforated mesh banners.
Where and how are these pole banners used?
Parking lots - retail stores and strip malls

- Parking lot light post banners listing restaurant names, directions, upcoming events.

Sporting complexes

- These pole banners identify the teams names, players names and winning seasons.

City and Community beautification projects

- Street pole banners highlighting the "city image" with decorations combining city campaigns with community development.Seasonal decorations. Pole banners are perfect for celebrating holidays, summer activities and events.

Special event street post banners

- Light post banners are ideal for passing special event information to tourists and locals - upcoming fairs and festivals, museum exhibits, and theater productions.

Retail stores and restaurant banners

- Street lamp banners are ideal for restaurants and retail stores to display their products.
For information on our light post banners, give our sign specialists a call.
714-573-9313