Candle and Soap Labels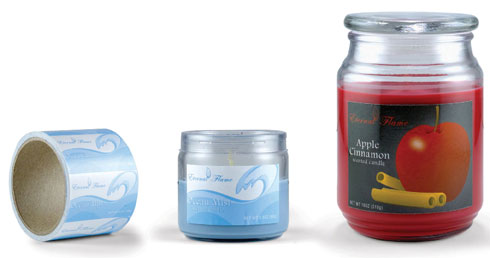 Custom labels for candles and soaps
Personalize crafts and products with custom labels.
Printing custom candle labels and soap labels is a great way to brand your product for marketing, personalize gifts or to apply to unlabeled products for decoration or promotional give-aways.

There are a lot of home crafters, who make their own soap and candle products, as well as large scale companies that have their products featured in various local, national and chain stores. And whether you find yourself looking for candle and soap labels for personal projects; or are an established candle or soap producer shopping around for a vendor with great prices and products, either way, branding your wares with custom soap labels and candle labels is a must.
Candle labels and soap labels can be pritned on white or clear vinyl materials depending on your particular design ideas or how you want to present your product. Some candle and soap labels look better with a background so that the design pops, while other candle and soap labels look great printed on clear vinyl allowing the candle or soap product to act as the background color itself. Our candle and soap labels can be pritned using full color digital printing or spot color printing utilizing your own custom designs. But for those that need candle label and soap label custom design services, send us your ideas, and we'll bring them to life and to print!
With no minimums and great price breaks for large quantities, anybody can purchase our custom candle and soap labels, at affordable prices to fit their needs and their budget. For home crafters who only need small amounts of candle or soap labels we got you covered. And for large companies that need lots of candle labels or soap labels to brand their nationally sold products, the more you order...the lower the per piece price drops!
Need a different type of label? See our label choices page for a variety of custom label information.
For more information on clear labels, decals and stickers
give our label specialists a call.
714-573-9313